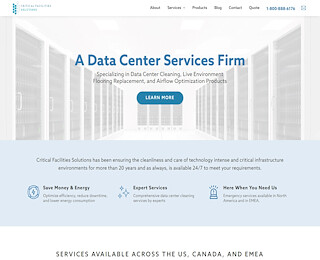 Are you trying to decide between cleaning your data center yourself and hiring a professional? An essential thing to consider is the intensity of the work that is possible via each option. Modern data centers still need as much cleaning as the older ones and even more maintenance because you have to replace the filters and mats more frequently. Proper data center cleaning has a positive effect on your data center's uptime because everything always works as it should, and none of the critical areas are overlooked.
Difference Between DIY And Professional Data Center Cleaning
A Standard DIY Data Center Cleaning And Sanitization Service
Untrained staff cannot do much except wipe off the dust from the floors and external surfaces. They will not know how to evaluate the cleanliness of various air intakes, the plenum, and other critical hardware in the system. Most importantly, they may use a list of chemicals that the US Environmental Protection Agency does not recommend.
We have found that a lot of our clients that started with DIY were limited to the points they would contact for cleaning. It was difficult for them to know which areas could withstand spraying with cleaning chemicals or water and whether to use a dry or wet fabric to clean the inside of a cabinet.
Remember that IT equipment can fail due to a minor electrical interference, which will cause damage to the fabric of your storage and possibly even lead to the complete shut down of significant connections. Things like the fiber cable should never be moved or wiped because they pose a lot of risk for contamination.
You do not have to worry about remembering the list of things to avoid, such as peroxides, ammonia, and solvents, when you have us do all the work for internal and external cleaning.
Cleaning A Data Center With Professional Services
Trained personnel with EPA and ISO certifications can do all kinds of sanitization and cleaning services. You need to hire professionals that use the suitable materials and know their way around the complicated electrical connections. Nevertheless, the professionals will know which one of their chemicals will also double as a Covid-19 disinfectant and not cause harm to any of the devices.
Things A Professional Will Do Different
Different Cleaning Routines
Sanitization needs a different approach when dealing with specific electrical units. We make the process more effective by using a different kind of solution every time. The handrails, door knobs, and handles will get a different approach from intricate devices like light switches, the inside of a server's cabinet, and the ceiling fan.
Using Technology For Server Room Cleaning
It is possible to clean specific areas of the data center using UV radiation like UVG and UVC. Each one will target a different group of microbes, and the effectiveness will depend on the quality of the technology.
Ultimately, professional cleaning services have higher cleaning data center costs, but they are better in regards to the safety and quality they provide. Contact our data center cleaning contractors today to get an estimate for all your data center cleaning services and check out the store for items for your data center fitting.
Critical Facilities Solutions
8008886176
6800 West 117th Avenue
Broomfield CO 80020 US